The history of Hayden Beverage starts with a Boise grocery distributor adding Olympia Beer to his offerings when Idaho repealed prohibition in 1936. One of the partners (seeing better potential growth in beer than Oleo and Moxie) went on his own, taking the Oly rights with him. He later sold the business to the local Coors distributor, a decision that did not earn the enthusiastic endorsement of Bill Coors (who was irked by the #2 brand joining his #1 brand in the same house). So in 1970, the Coors distributor grudgingly sold the Oly rights to a local gentleman. To run the business, the buyer hired a 28 year-old Boise Cascade cardboard box salesman and Harvard Business School grad, John Hayden. Serendipitously, in that year's legislative session, the state decided to take wine out of the state liquor store system in favor of stores and distributors.
A few years later, John bought the business from the owner and renamed the company Hayden Beverage Company. (There is a more colorful version of that story).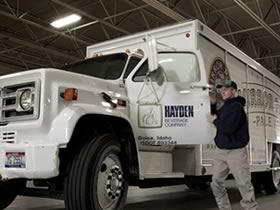 Over the years, Hayden Beverage hit the streets with predominantly independent brands. Always with a chip on their shoulders, the sales force consistently over-performed. Hayden built the likes of Schlitz (Go for the Gusto), Rainier, (Fire-brewed) Stroh's, Henry Weinhard's, Kokannee, and Pabst into strong regional players, earning multiple distributor of the year honors and often overtaking big, national brands. The company has been the leader with innovative brands from California Coolers to Mike's Hard Lemonade, from Snapple to Menage a Trois. In the 80's, John was the first Idaho distributor to embrace the microbrew phenomenon, taking on Red Hook, Widmer, Sierra Nevada and Sam Adams. The company grew into a rare model, a formidable enterprise in share, revenue, and geography that does it all without A-B, Miller-Coors, or Gallo as its core business.
As time passed, Hayden Beverage expanded from Boise into Sun Valley, then Twin Falls, and most recently, Pocatello/Idaho Falls and North Idaho/Eastern Washington.
John Hayden was 6'4", 220lbs, played football and rugby in college and was invited for a tryout by the cowboys. He was also the guy in college who used to fight the townies. He had a scar above his broken nose that gave him a sneer (when he was not lit up in a full laugh). As he would tower over his audience and completely invade their personal space, his intimidating nature was magnified by his close-talking (which he intended as friendly). In his defense, he was usually passing on a joke from the sale meeting or congratulating someone on great work. He was a hard-nosed and clever businessman whose management style represented what he was, a first generation owner who started in the business with nothing and whose parents grew up in the depression. His employees were his other family, and his company was his third child. In 2006, after 35 years at the helm, John died suddenly, and his son Dodds purchased the company and took over the management of the business.
In 2008, our company and Young's Market Company (a 9-state wine and Spirits Distributor) saw an opportunity to grow together and we created a strategic partnership.  This partnership led to rapid geographic and sales growth helping us create the first true state-wide idaho distributorship and eventually leading us to set up a Montana-wide distributorship..  The two legal entities (Young's Market Company of Idaho selling Wine and low-proof spirits and Boise Sales Company selling beer and non-alcoholic beverages) operate under the Hayden Beverage banner and share sales, logistic, and administrative functions.  In 2020, RNDC purchased Young's Market Company and became our partner.  Dodds Hayden serves as CEO of both Boise Sales and RNDC of Idaho.